Gila Bend to San Diego
Things are rapidly drawing to a close over here. Goal for the 10th was to drive to San Diego. Long drive. Woke up saw a few UP trains trundle past, then hit the road and headed for Yuma. Long slog on the i8. Not much scenery wise, just more desert (and not even that interesting). Yuma was biggish, main interest for me was the big stack train we passed on the way through. Then it was back on the road to San Diego. Here things got a bit more interesting. Unbeknown to me we passed within a mile of the Mexican border a number of times. What I was aware of were these things…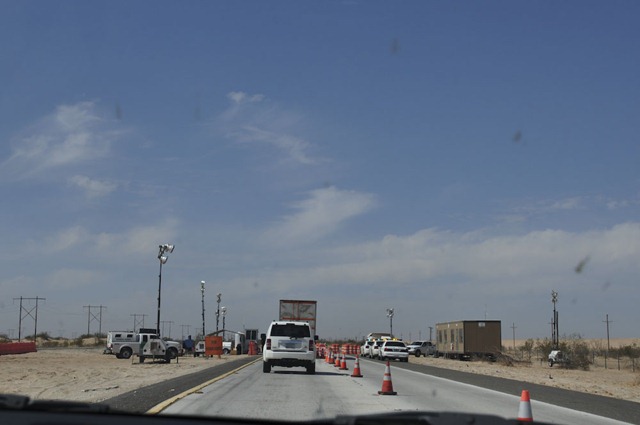 US Border Patron compulsory checkpoints. Note the large portable floodlights all around and the plethora of patrol cars all lined up ready for anything exciting. I wasn't sure what to expect here, but we actually got flagged right on through; apparently we weren't suspicious enough, and Angela was under strict orders not to flash anyone in a uniform!
Sensing we were close to the border I kept my eyes peeled for anything… soon saw it easily enough; a great big fence and no-mans-land, complete with flood lights. Wow, where are we?! Berlin Wall? Apparently keeping their southern neighbours out is a big deal here. Which reminds me: a number of times we've come across a big complex of buildings with reduced speed zones, mesh fencing, big faceless brick buildings and massive lighting towers, so naturally I assume we've come across yet another state prison, but it turns out they're high schools! Yup, to my kiwi eyes their high schools look more like prisons. I bet the students would laugh their arse off if they heard that! And then promptly point out that they are in a prison :-)
Anyway drove on, and saw an off ramp to nowhere, so took it to see if I could get a shot of the border. Found the border all right, and a white Customs & Border Security SUV parked watching it! So drove up, did a slow U turn snapping a few shots and drove off. Half expected to get searched at the next checkpoint but again got waved through.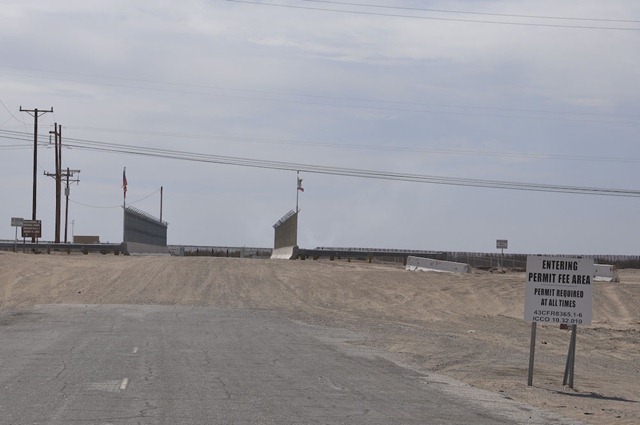 No idea what a fee permit area is, but the fence at the back is the US/Mexican border
Continued on, up a pass which had the warning "Turn off A/C to prevent engine overheating" and tanks of radiator water every mile. Poor gutless car didn't overheat, but it hardly flew up either. Car actually did a bunny hop when changing down a gear! Never seen an auto do that before; was quite a jerk, more like I'd slammed my foot on the brake. Clever car.
Eventually reached the top of the pass and went to the Desert Lookout Tower, which had a $3.50 admission charge. Sigh. So sick of admission charges. So walked up the entrance and took some photos… not much worth seeing though, mainly various shades of haze. The rocks on the pass were interesting, not very realistic so won't be copying them, but interesting all the same…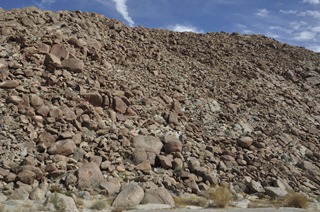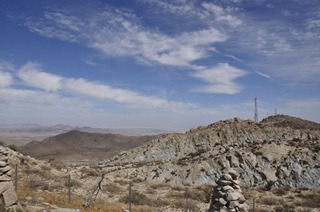 Rocks on the pass on the way up / View from the top
On the way down we went through yet another checkpoint, this time they had pulled some cars to one side and were doing a thorough search on them. But not us luckily; explaining all the model trains and soft toys would be interesting.
Down the hill we cruised and passed a huge wind farm (actually a piddly one by US standards we were later to find out).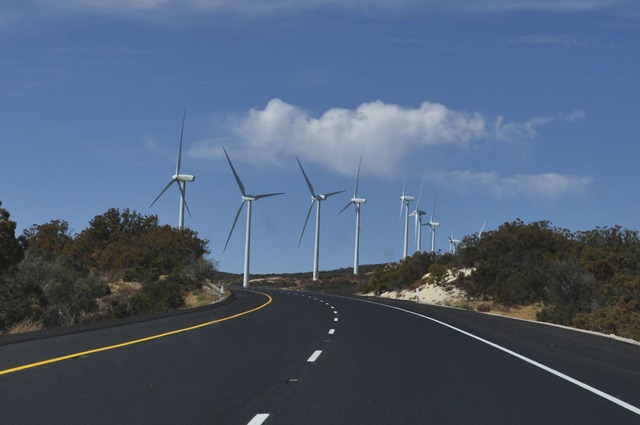 By now we were in California, and back to California highways. Arizona wins first place with Nevada for quality of their roads. Many California freeways are concrete with no tar seal over the top, and grooved concrete at that. You can see it in the checkpoint photos above. And since concrete isn't very flexible, it has joins in it every 20m or so, so as you drive the car is making lovely ca-chonga-chunga-chonga-chonga sounds. Oh and the endless road works.
So after a good 5+ hours driving we arrived in San Diego with only one wrong turn which added nothing to the journey time, so a job well done. The KOA campsite there (no way were we going to pay big-city-motel prices) is really nice, and was a hive of activity. Kids were busy cycling around on a dozen different types of bicycle (seemingly everything but a unicycle), there was a pool, hordes of 13 year old girls were roaming the pathways, boys were sitting in pickups armed with water pistols, and of course there were hundreds of RVs in all shapes and sizes.
We got a nice little site complete with picnic table. We hired some bikes (3 wheeler sports model recumbent for me, 4 wheeler "4x4 Big Foot Offroader" for Angela) and had a blast hooning around the campsite no doubt teaching lots of little boys all sorts of bad bicycle habits; I was doing donuts on the gravel in between attempting to get airborne on the speed bumps. Haha.
Went and got dinner across the road at a Hawaiian BBQ place which was very cheap and very nice. Very simple meal; just rice, a green salad, and a nice chicken breast. Enough meat to feed the entire first 15, all for $6. Was so nice to have something plain and simple, something like a home made meal.
Back at the campsite things were heating up. Being a Saturday night leading up to Halloween all the RVs were dressed up in their finest zombie costumes and there were bunches of witches and storm troopers (I don't understand that one either) going from RV to RV judging their decorations. Was quite cool actually, some had gone to impressive lengths with inflatable pumpkins and one even had an inflatable cart with horses and ghost inside! Lots of fairly lights everywhere.
We followed the herd around and ended up standing outside Alfonso's cabin who invited us over for a beer. Had a great chat about the US and Mexico, nationalised health care (he works in the health care industry so knows a fair bit) and how every country other than the US has a national health system and they all work just fine. Had some more beers, talked about Mexican food and how lacking it is in Chch, about accents, travel times, met his daughter & wife, met some of Alfonso's extended family, and so on until after midnight. Heard about one of Alfonso's relatives who is, get this, a used fire truck salesman . Yes, there really is a market for second hand US fire equipment! But then thinking about it, what else is an on-duty fireman going to do between callouts but polish his truck?!
Eventually wandered back to the tent and hit the hay. Had a big day ahead of us!