San Diego to Barstow
Woke up earlyish on the 12th to a cool gray morning and packed everything up, then headed off on the Interstates for the San Diego Wild Animal Park. Got there, paid $9 for parking in the middle of nowhere (*#%#!?!) and made our way into the park. After about 5 minutes of walking past shops and cafes and bookstores we saw some animals.
First up was aviary with some ducks… hmm… and a few other odd birds. We then worked our way over to the cheetah enclosure for feeding time, which was very popular.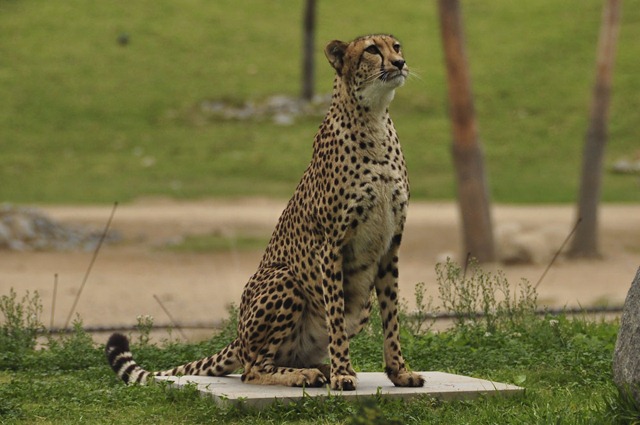 The cheetahs were quite patient waiting for their lunch, and knew to wait on their little concrete pads. Oh and there were 3 of them there; not bad for a solitary animal. The keeper was in there with them too, handing out their chunks of meat; good luck seeing that at Orana Park!
After that was over we went on a safari tour on a weird snake train bus contraption; was a mini van towing about 4 trailers with seating. Would hate to back one of them up! The tour was interesting, wasn't a whole lot to see as most of the critters hide.
Once back we walked past the lions (fast asleep on a Range Rover..!?) and on to the Tigers (hiding, with the exception of a sleepy white tiger in the middle of the field), so then we went on to find the eagles. Passed a very helpful sign outside the Tiger enclosure…
Saw a roadrunner and a bald eagle so I was happy! Bald eagle baby! Yeahhh! They're pretty big birds, and when one looks at you blimey do you know it's looking at you; you really feel like it's staring right into your soul with its huge yellow eyes. Quite a sight.
We headed out shortly after this and onwards with our trip. Back on the highways, headed up inland (so no beaches sorry) and skirted as far around LA as I could. Even on the very outskirts of LA the graffiti was everywhere; the road signs on overpasses actually had razor wire (and liberal amounts of it at that) around the edge to stop the signs getting graffitied; thats how bad the graffiti problem is.
So we skirted around LA via San Bernardino and over the Cajon Pass, but couldn't see much of the famous railway pass here, on account of the hundreds of cars and big concrete barriers that Interstates seem to thrive on. Onwards we drove and eventually arrived in Barstow on the I15. Drove through Barstow; lots of motels again, we must be back on Route 66! Actually yes we are. So that Route 66 tee-shirt I shunned in Seligman because I didn't feel like I'd driven enough of Route 66; turns out I've probably spent more time on Rt 66 than 99% of people who buy that top :-) Eventually settled on the "Best Motel". The proprietor guessed we were English, so explained we were actually kiwi; turns out he had spent several years in England and yet he couldn't pick an English accent! At least he knew all about wifi and showed off with pride the thumping great wifi antennas he had, so knew we were off to a good start there. The room was just fine, nice and big.
Went down the road for dinner to a BBQ place; turns out it was a real mom & pop hole-in-the-wall type place, and when I say hole in the wall, I mean a single room building with a sliding window that you walk up to! A walk-through if you like :-) But dang the beef BBQ sandwich he made was absolutely amazing. "He" was a big, no make that massive black Southern man with one heck of an accent :-) Not quite what I expected to find in the middle of Barstow, which is itself in the middle of the Mojave desert.
Back to the motel and off to sleep. Not long till San Fran now, just one and a half days till the car is due back.