Day 31 - Carpinteria CA to Monterey CA
Goodbye Carpinteria and hello more highways! Back on the road I was surprised by how New Zealandy the scenery appeared to be.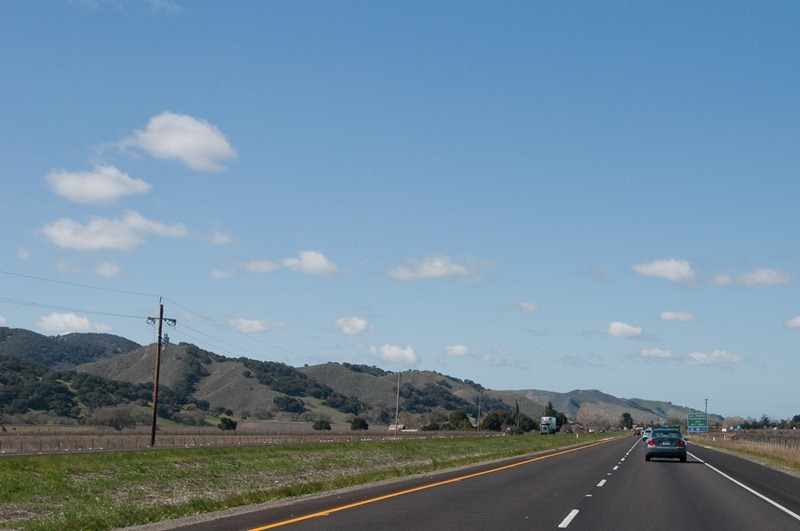 This could quite easily be somewhere around Banks Peninsula or North Canterbury.
Around 1pm I arrived in San Luis Obispo, which is one of the oldest settlements in California being over 300 years old. It seems quite a nice place, according to the San Luis Obispo Chamber of Commerce it's the "happiest place in America". When I arrived there was a 4 pack of SD70 helpers in the loop sunbathing, but soon after I heard some rumbling and an Amtrak Pacific Surfliner train arrived and pulled into the loop.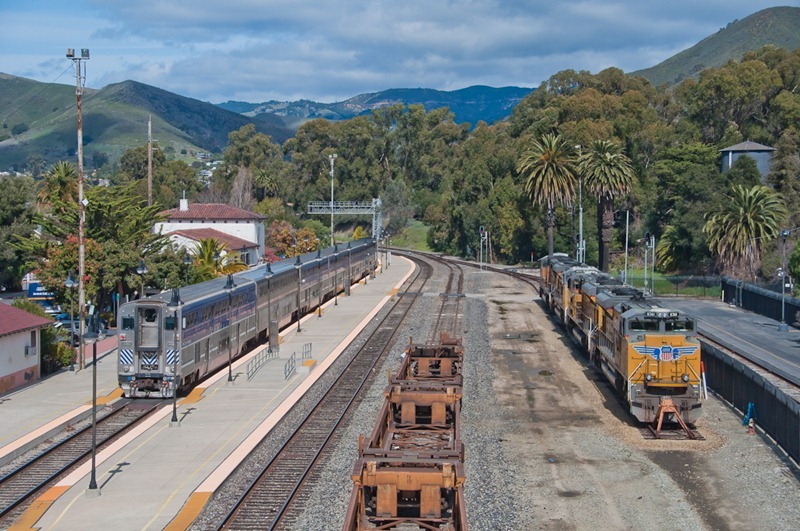 I wandered down and admired the sudden hive of activity.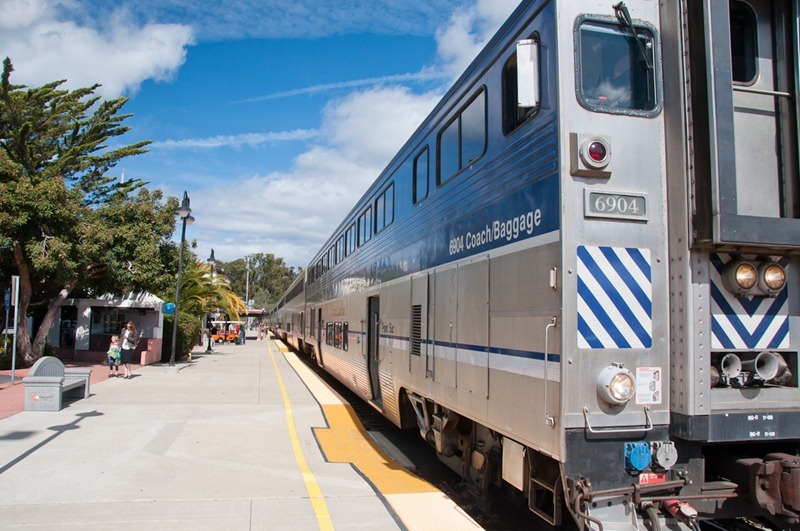 It is quite a pleasant station with palm trees and a quiet sleepy dog feel to it. I stood around the cab car and soon the new engineer arrived and settled into the cab. Then his son arrived with the ticket conductor and his son started urging him to "dad dad blow the horn!"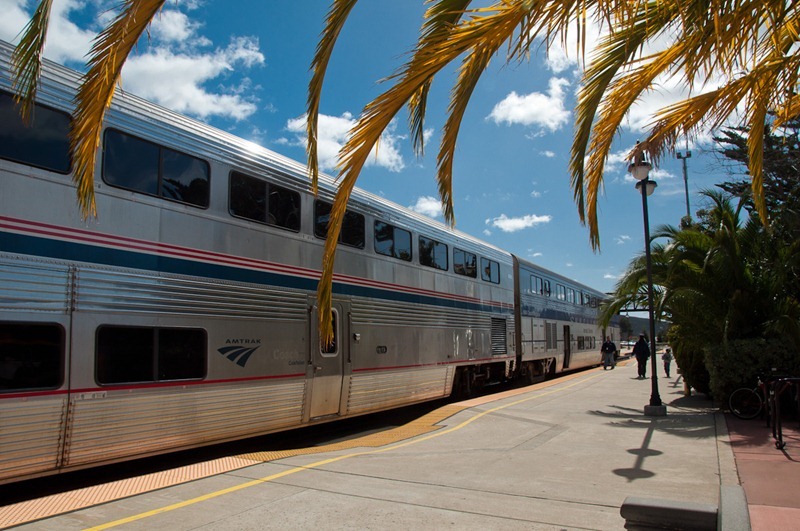 Within 10 minutes the train was back on its way down the coast again. And EMD F59PHI brought up the rear of the train and boy are they big locos! Fairly short, but the same height as a double deck carriage!
I hopped back on the road and within half an hour was at my next stop, Morro Bay. Morro Bay marks the unoffical beginning of CA Highway 1, the Pacific Coast Highway and one of the top 500 drives in the world, according to National Geographic. It has been on my must-see list for quite a while now.
Morro Bay is a small town, although I bet in summer it is just crawling with people. Luckily on a Thursday in the middle of winter it was pretty quiet. I found the beach and dressed up for the stiff sea breeze.
I had a feeling something might be up when the moment I stepped out of the car a fleet of seagulls suddenly mobilised and started following me around.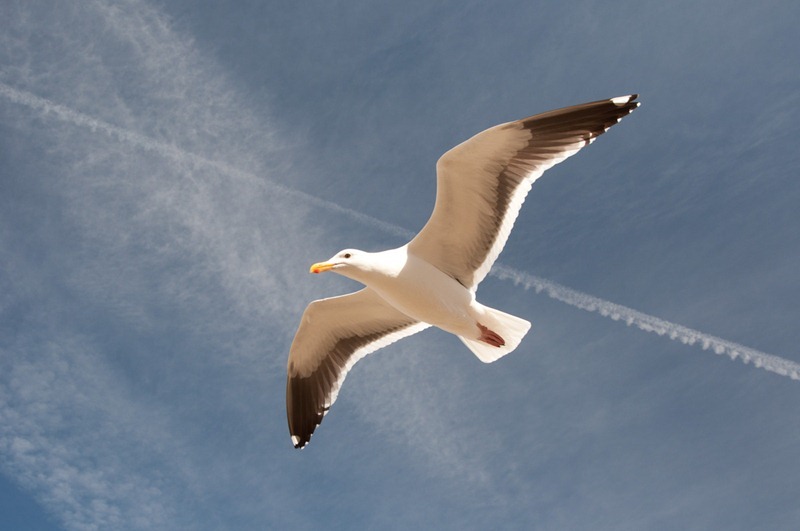 I wandered on down and admired the famous Morro Rock, which is pretty impressive.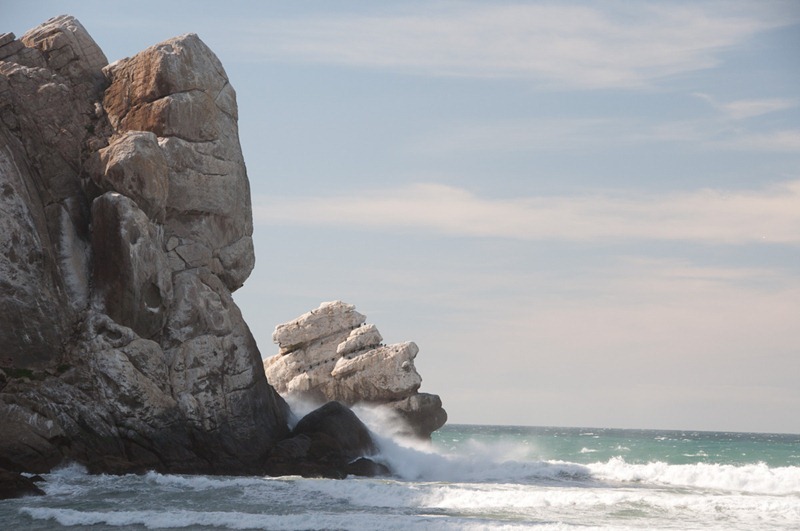 I sat down on some rocks and then noticed something… something small and furry…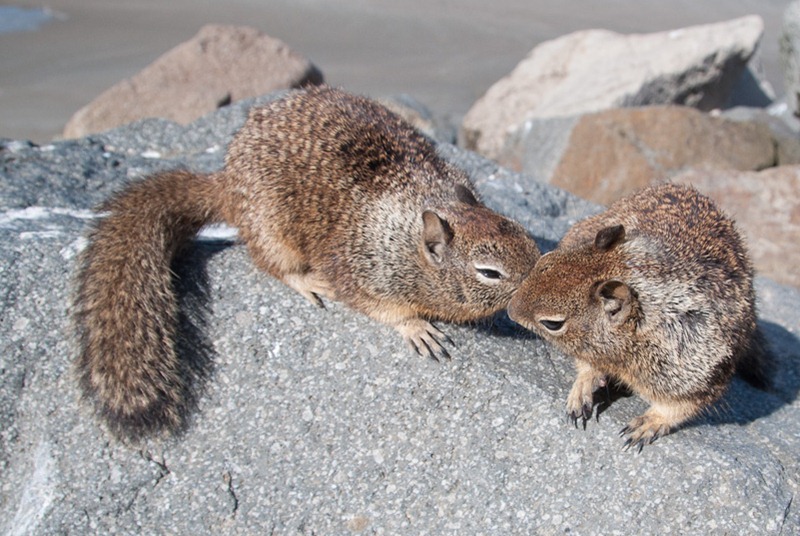 I'd had a feeling this might happen and so had stuffed my pockets with some stale bread. Word soon got out and I was flooded in squirrels. Flooded.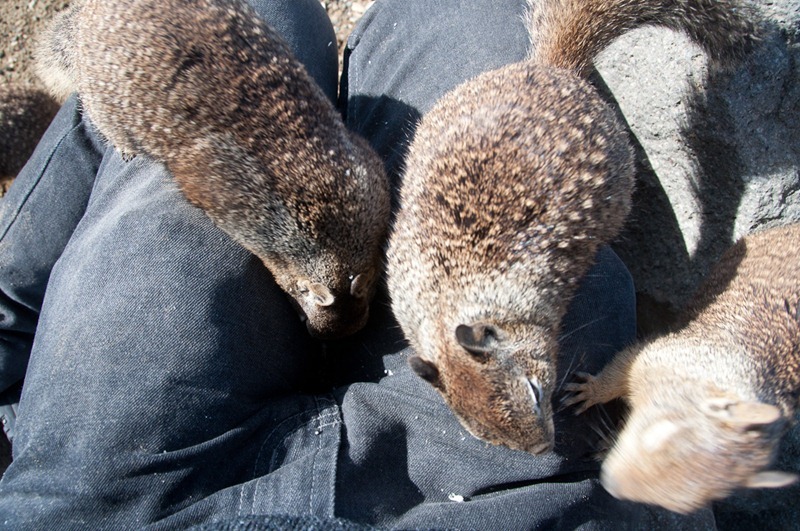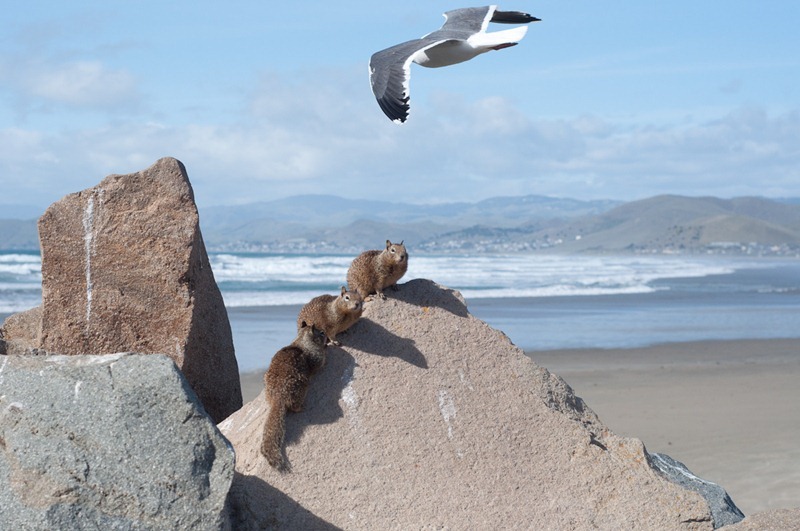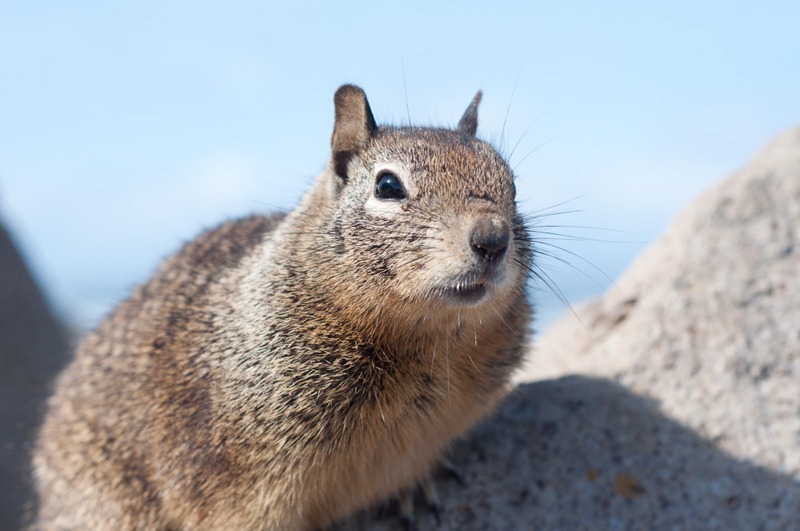 They soon emptied my pockets so I went to get more. The sea gulls gave up and left me, but then when the realised I had more bread it was back to red alert.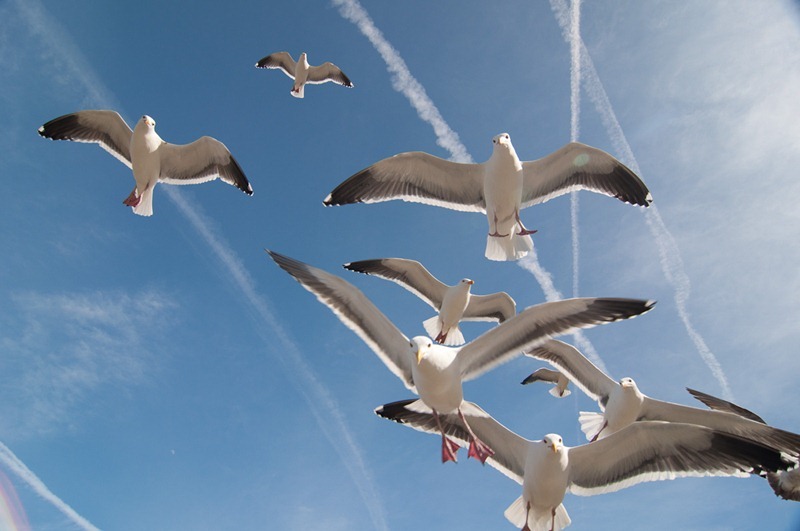 These gulls are so practised that they can actually cruise in and take the bread out of your hands, mid-flight! It's quite a sight to see, 30 odd sea gulls following you around the beach, and 60 odd little beady eyes all focused on your hands!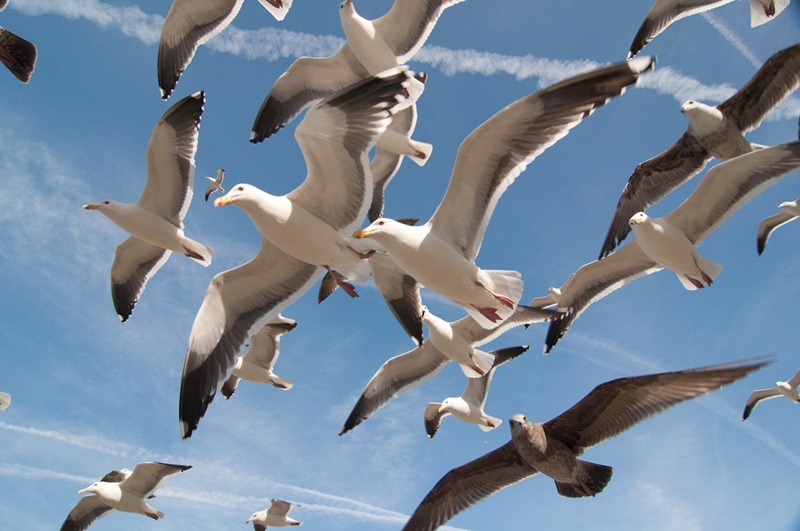 I went back to the rocks and tried to coax some squirrels into being models for me. It didn't take much convincing, just some breadcrumbs. The problem is they move very very quick when food is involved!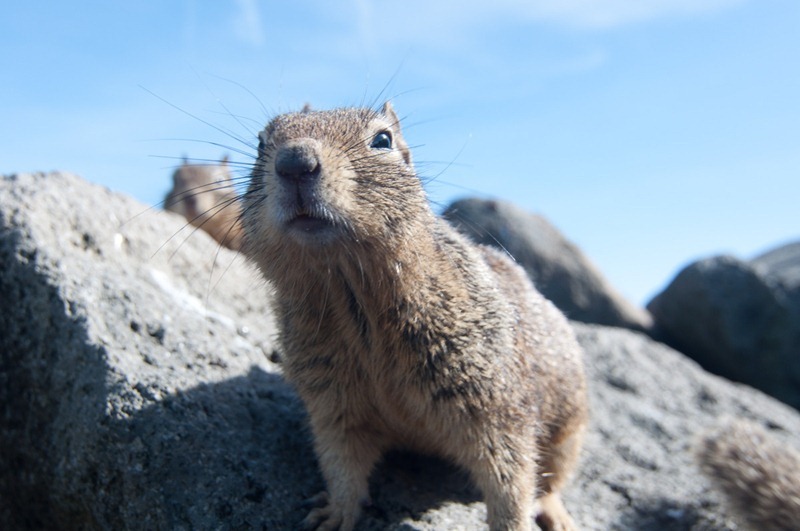 I ended up with a camera full of squirrel nose a number of times!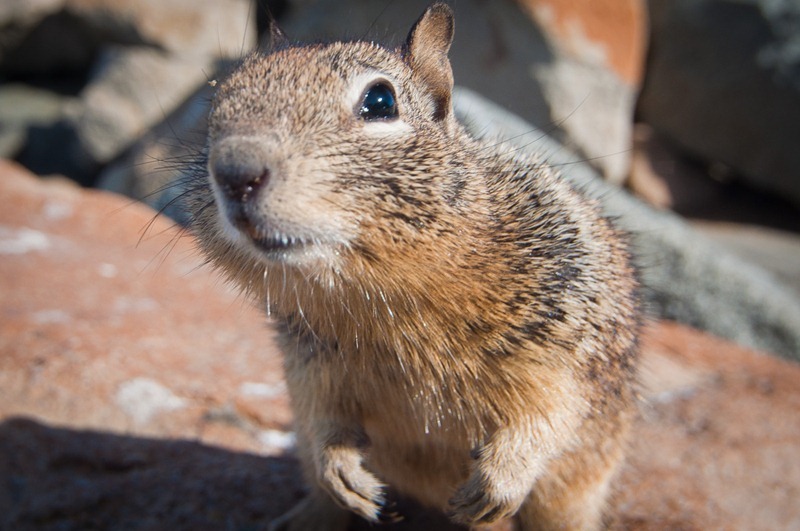 And when your depth of field is mere centimeters, and your focus is slow, it takes a very quick shutter finger to capture a hungry curious squirrel!
I hit the road again and next stop was Herst Castle.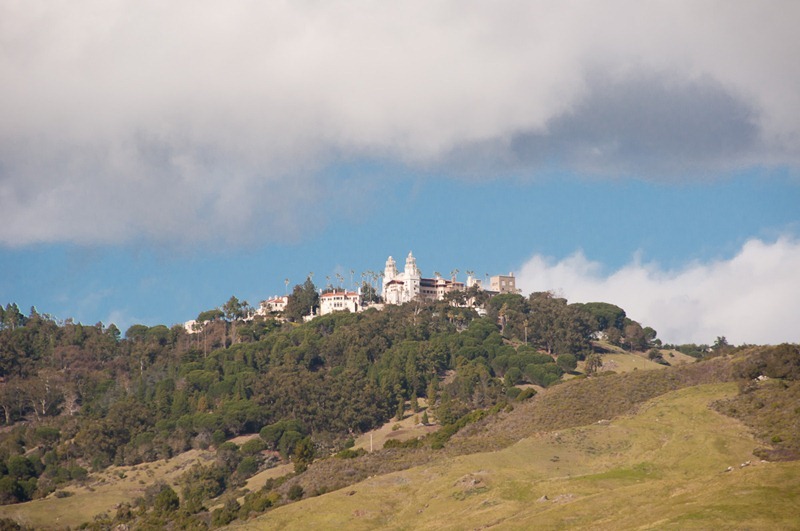 I didn't feel like wasting an hour and paying money, in fact the only thing I actually wanted to see was their flock of zebras which sometimes graze down by the road. Sadly today was not the day and they were off with the cows somewhere else.
I continued on and stopped at a seal colony.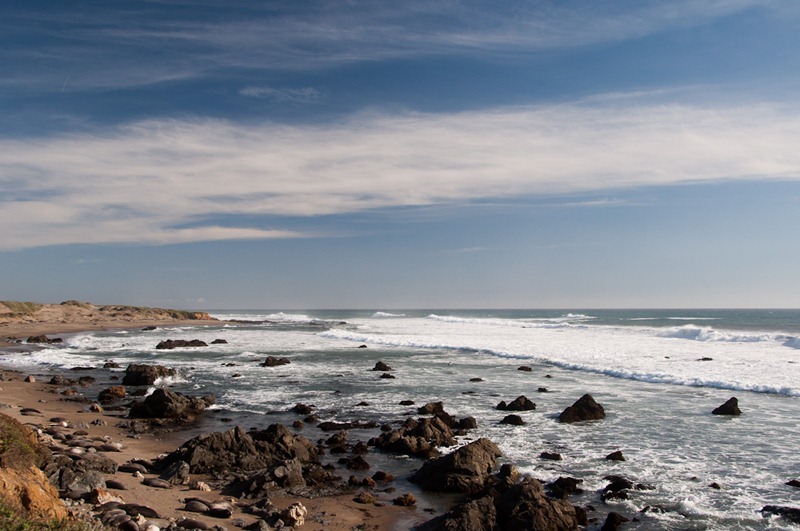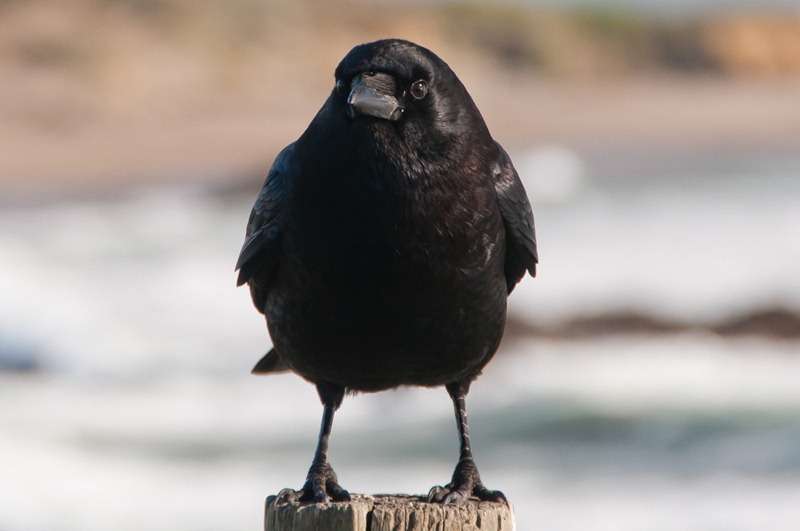 More squirrels here too! I suspect the food is pretty plentiful in the summer months!
I found a beautiful wee bird hanging out in a bush with just the softest wee touch of blue on its back. No idea what kind of bird it is. Then I found the seals.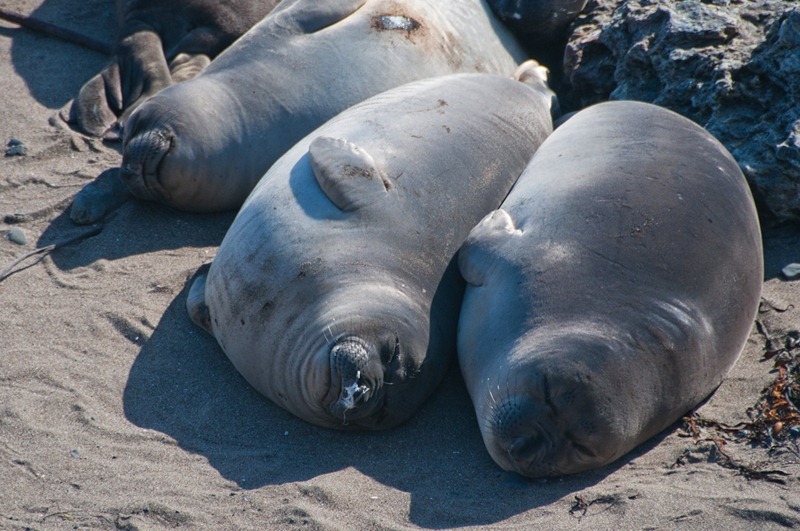 Moderately cute, I guess. But this???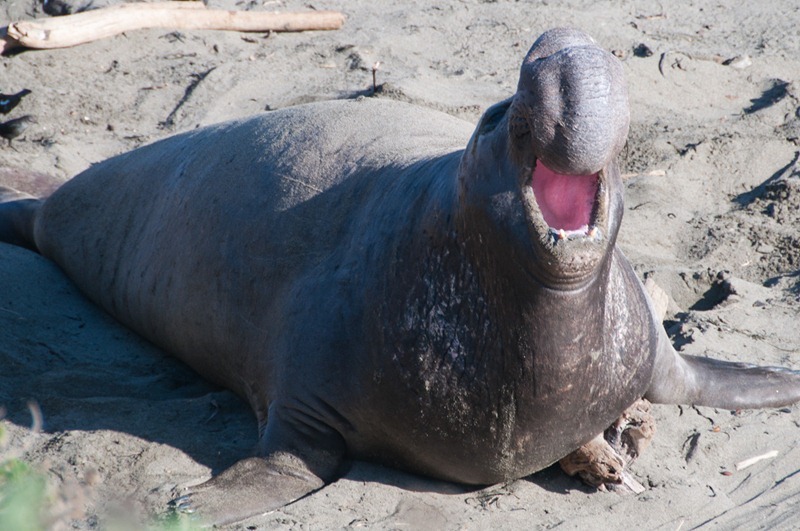 I guess he doesn't have unrealistic standards of beauty propogated by the fashion industry to live up to. Heck they've probably never even heard of Photoshop… savages.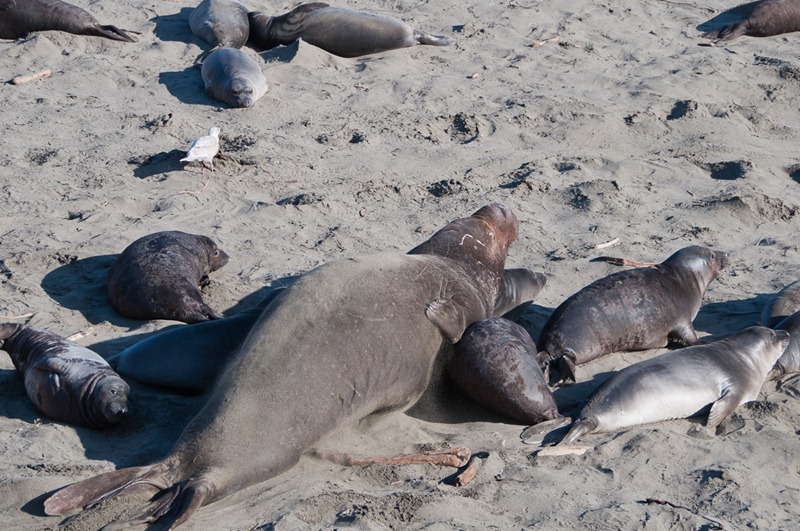 The size difference was impressive. He must be ten times the weight of the girls! Imagine if your boyfriend weight the best part of a ton!!!
Back on the road, a lot of it looks like NZ around here. The Pacific Coast Highway always makes me a bit homesick.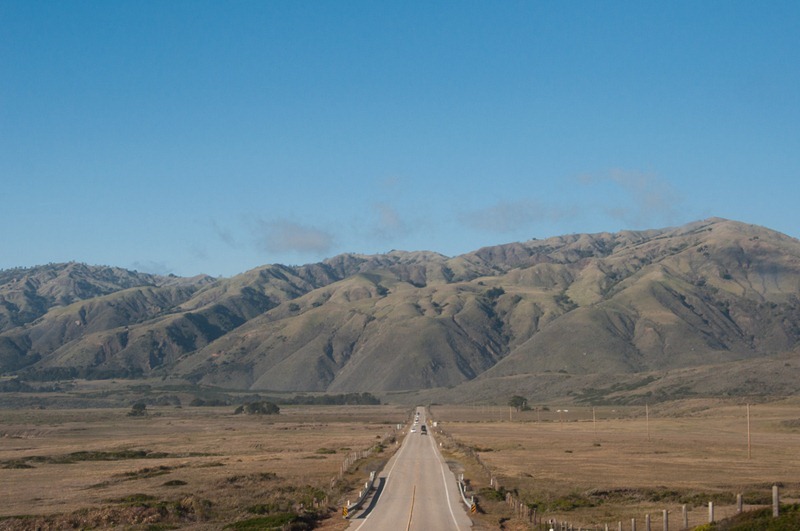 Then again, there are spots like this that I have yet to see the like of in NZ: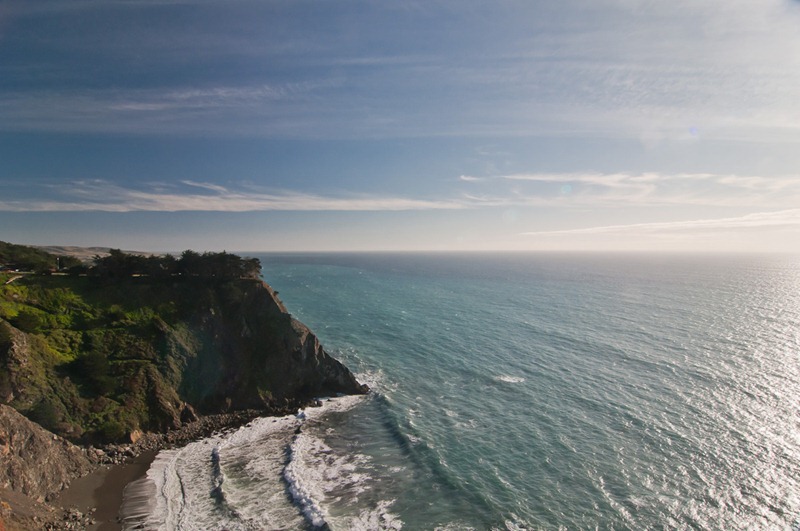 Traffic along here was beautiful, hardly another car to be seen! Just a simple plain highway, one lane each way, and a soft shoulder.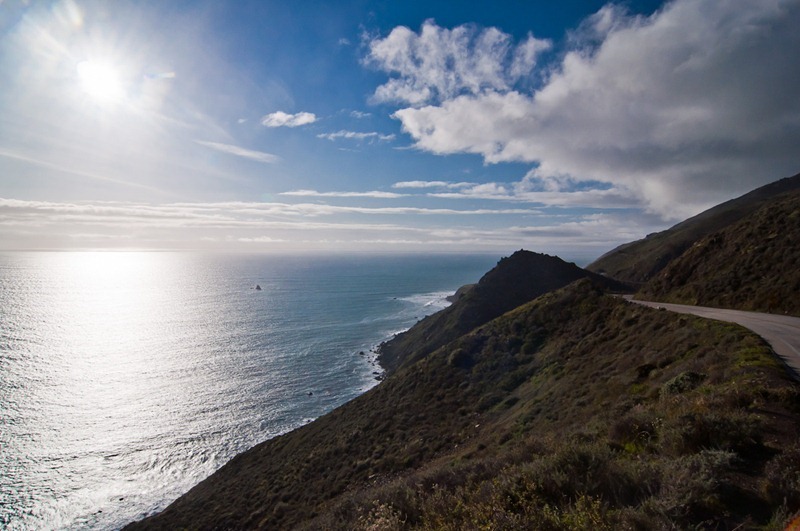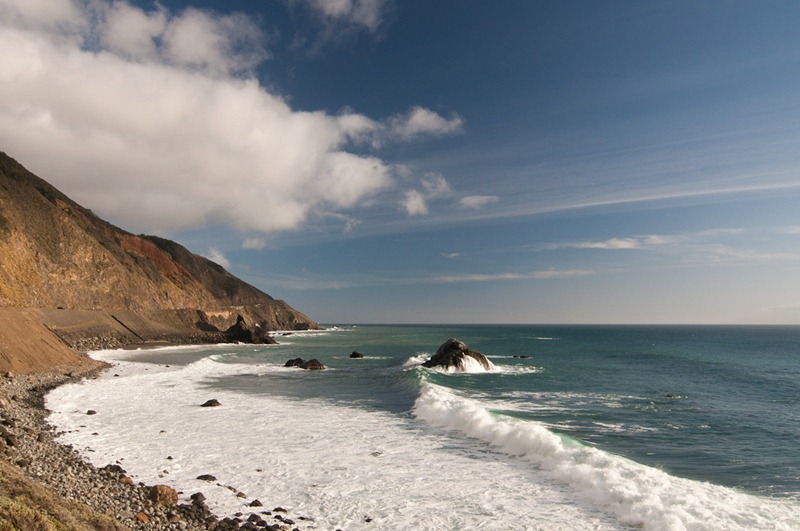 Up the road I stopped at a place called Jade Cove and walked the steep track down to the bay.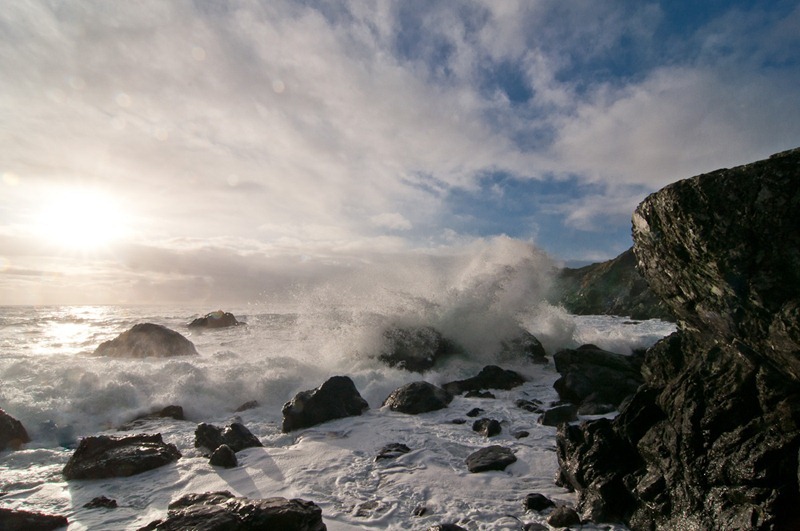 It was pretty spectacular as the sea came pounding right in. The cove gets its name because there is the rock of the same name to be found here, although I didn't see any, not that I really know what I'm looking for.
I had a break here and then hiked back up to the road again.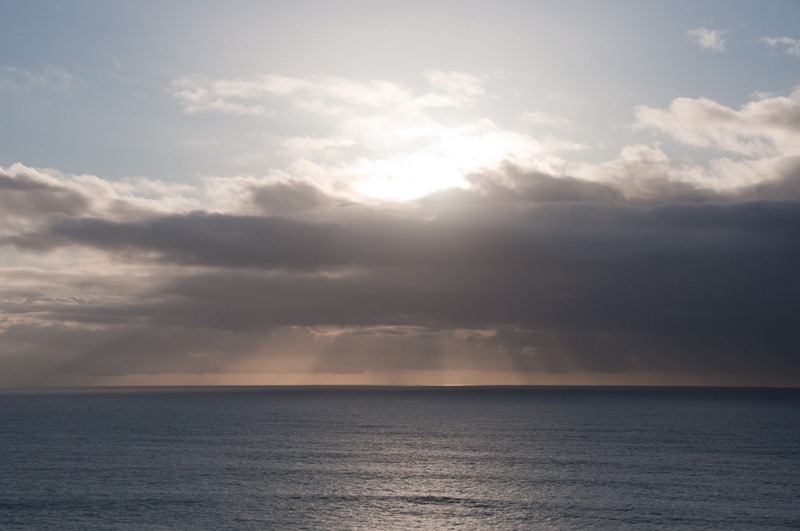 I was hoping for a great sunset but a bank of clouds had moved in and seemed to have quite different plans to me.
Up the road I drove into very heavy fog, to the point I had to slow right down cos I could hardly see the road ahead of me.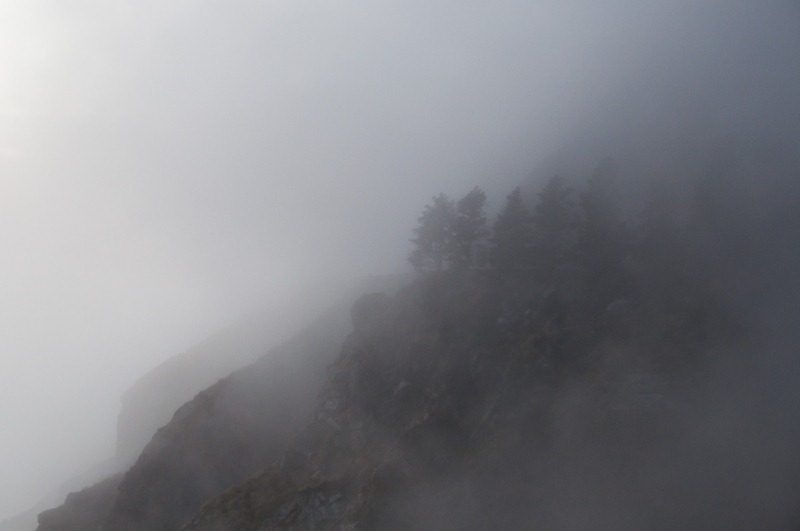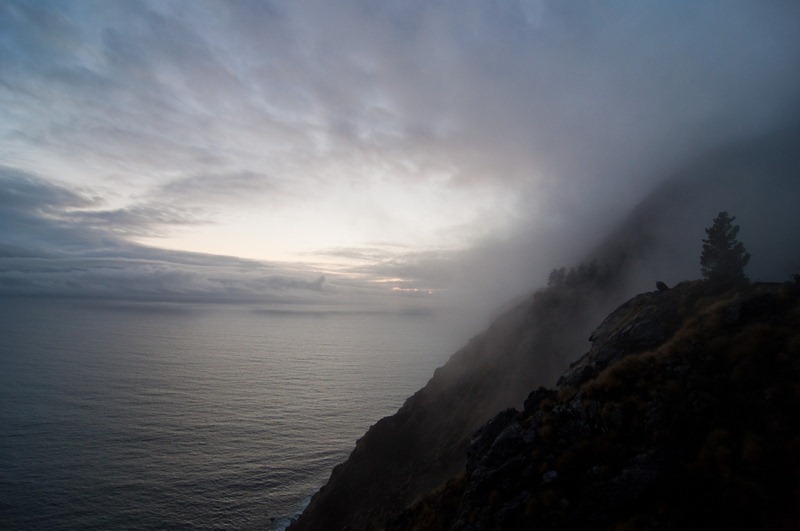 It wasn't much of a sunset, but it was a pretty spot. Many many feet below the waves crashed in.
I drove on in the dark till I spotted a lighthouse. No way to get to it, but up the coast I spied a vantage point and pulled over.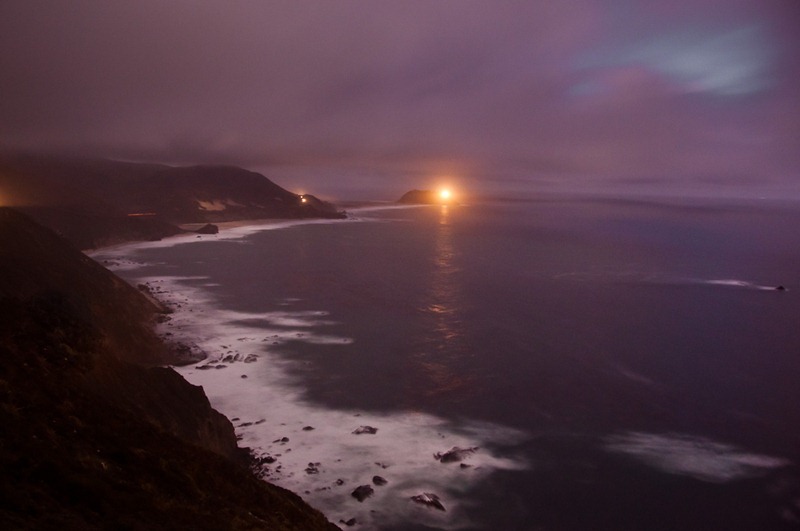 The damp sea breeze made the photos a rather chilly affair, but I got some nice photos. While taking them I noticed someone had a very private little hideaway, nestled into the side of the cliff.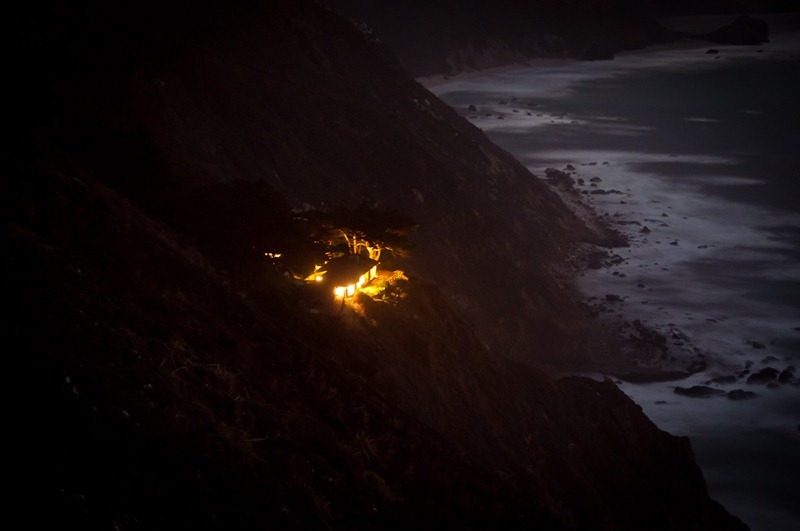 Back in the car I pressed on and ended up in Monterey, where I checked into a my last motel for this trip, the El Castell . For dinner I went to Chef Lee's Mandarin House which I had a nice low clost Chinese meal. Back at HQ I began the slow process of emptying the car and filling the various rubbish bins in the motel. I'd acquired a lot of junk food! Malt balls were one of my favourites. The Crispy Treats (probably spelled Krispy Treats actually) had lost their appear and no longer interested me. Too bad since I had a 12 pack of them.
With everything packed and ready to go I went to bed one last time.