Day 16 - Rawlins WY to Helper UT
Took me a while to wake up this morning. That's the problem with a good book; they can keep you up far too late! Bundled into the car, fueled up and set off. Hit the freeway, and that was as exciting as it got for the next few hours. Cruise control across Wyoming. 600km. I passed about four trains, all Union Pacific. That's right, I'm back in UP country now, land of the interesting loco. BNSF trains can be very smart, but they're very homoenous with little variety. UP trains tend to be far more interesting with all sorts of curious power lash ups present, and the chance of old paint schemes.
I stopped at Echo, just inside the Utah border, to see if anything interesting was around. Nope, just some stale grain cars.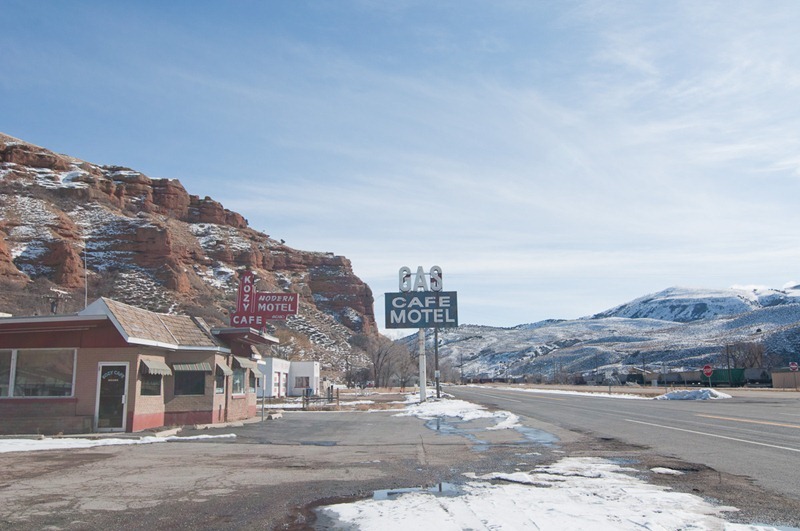 I was curious to see the motel actually showing signs of life. I headed onto the 80, then US40, then US189. Stopped for supplies. Looked like there could be some snow in the distance.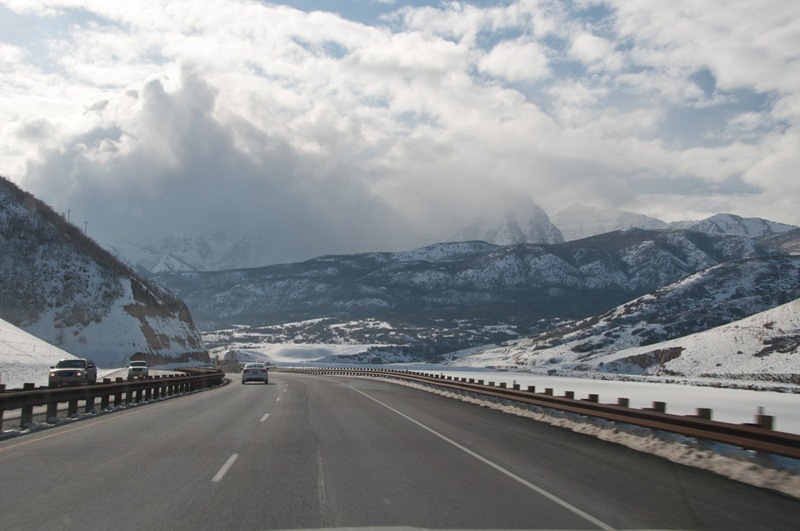 Then I was into Provo and crawling past Brigham Young University, eventuall I joined I15. At last, I thought, some decent speeds! Oh no, I had forgotten that Utah is the land of perpetual roadworks.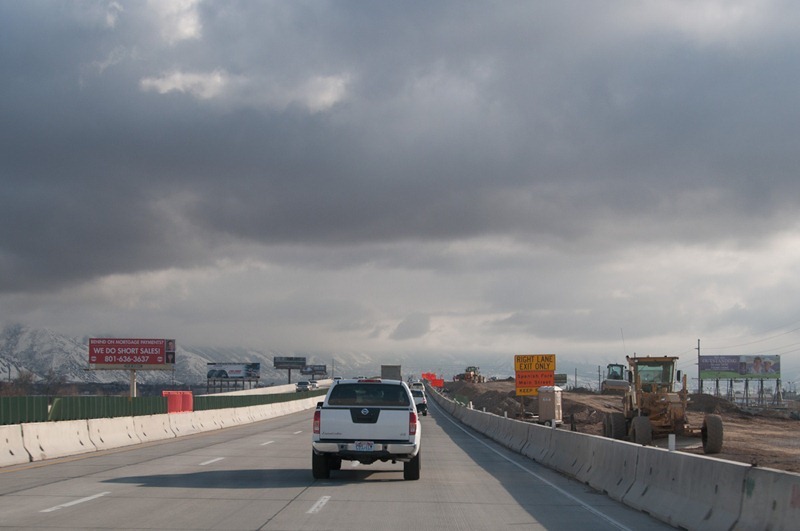 And so I'm cruising down the 15 trying to dodge road cones, graders, piles of dirt, grappling with lane changes and misplaced rumble strip, and all the while there are 18 wheelers and petrol tankers jostling for space on either side of me! Ahhh Utah, how I've missed your roadworks!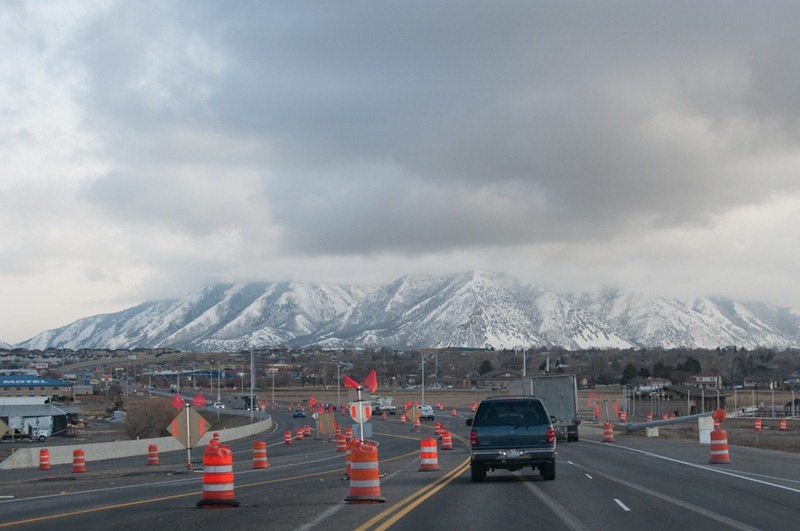 Poor GPS got very confused when none of the exits were where they should've been. As soon as I got onto US 6 I turned her off as I know this road from here. On the plus side however, the perpetual road works that I had encountered on US 6 for the last three years are now finally done! So it was a very easy drive over Soldier Summit and down into Carbon County.
I stopped to say hello to that most famous of rocks, Castle Gate.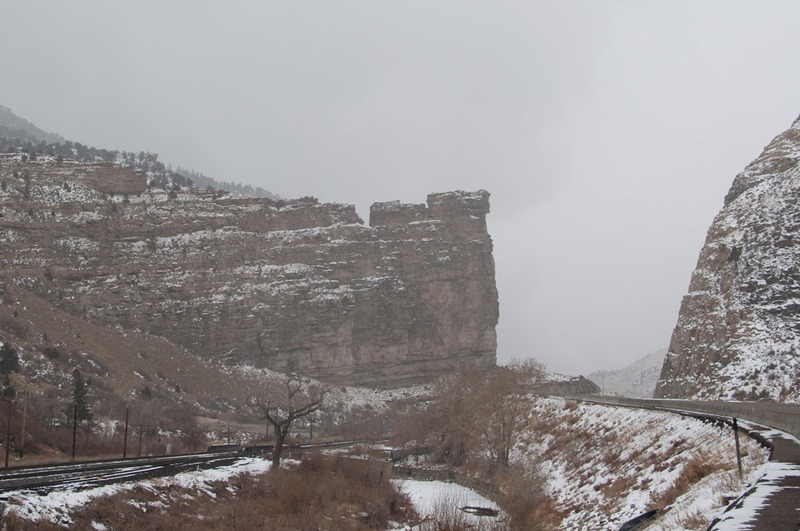 I pulled into Helper a few minutes later and had a room in next to no time. I was sad to see that Mark, who has been greating me as a long lost friend for the last 3 years here at the Riverside Motel, has left. The new lady is nice, but I miss Mark.
31 minutes after I arrived I heard tooting and then these bad boys roared through. This is the view from my doorway.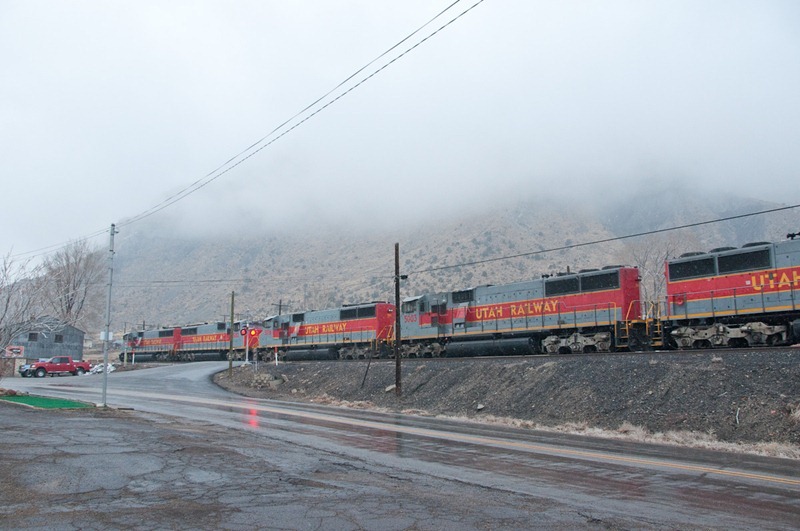 Five Utah Railway MK5000s on a long coal train, and then shortly afterwards six more locos.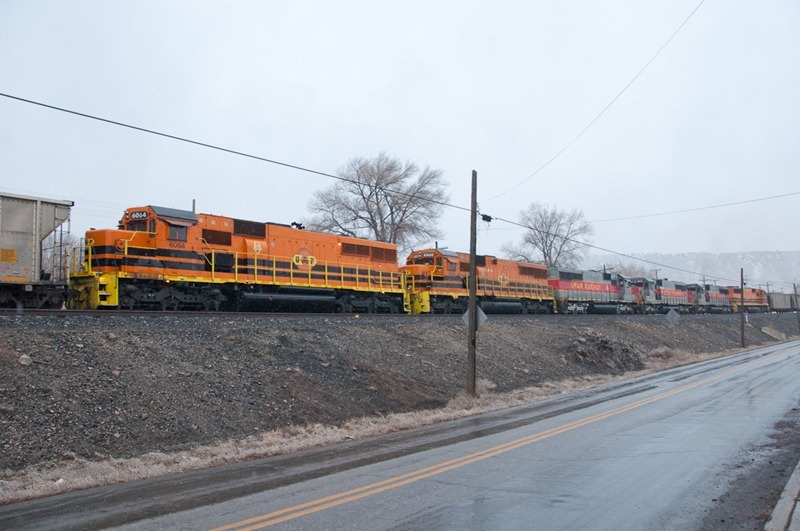 I plan to hunker down here for several days and avoid the local sheriff (seen him lurking round here a couple of times already) as much as possible. Last year he grilled me for half an hour for crossing the centreline as I pulled out of the motel carpark. Interestingly, later that week I spoke to an ex-local who had left town because of needless attention from the sheriff. And looking online I found a very sad report from the local musuem about how the council and mayor had "lost" $1.5M of their donations, and then fired the museum board when they started asking about it. The board members were then harassed and threatened by the local police! So all is not well here in paradise.
I walked down to the Balanced Rock Eatery and had a nice Rueben sandwhich for dinner which filled me up. Got out in time to see the Amtrak California Zephyr pull into town and drop off two passengers and pick up two new ones. It was only 12 minutes late, which is practically on time for Amtrak. It soon rocketed off and I was impressed at how smooth the Superliner carriages appear to be. As it tooted for the crossing the echo was amazing , sounding not so much like an echo but a completely different horn answering the Cal Zephyr; the P42 would toot, then a moment later a reply would come, echoing around the Book Cliffs and raised in pitch. Maybe tomorrow I will try and catch it on video.