Day 2: Donner Pass Railfanning
Slept for nearly 12 hours! Woke about 4am NZ time and it was a beautiful sunny day outside. Realised overnight that I'd forgotten 2 important things: my webcam, and sunglasses. So I packed up and went off searching for some replacements. Found some sunglasses in a pharmacy that would make Dave's blood boil; it was the size and layout of a supermarket, with all the charm too. But… they had sunglasses.
So all geared up I hopped in the car and with that a grain train roared across the end of the carpark. Two locos on the front and a DPU putting in a good effort on the rear. Right, it's on!
Knew I wouldn't have too much trouble catching him and soon I could see him snaking along as I roared up the 80. The Dodge sure can move when it needs to! It's a lovely vehicle to drive.
Stopped at Emigrant Gap #1 and saw a maintainer placing his truck on the rails; great, he'll tie up the line for a while. Continued around the corner to Emigrant Gap #2 and pat the bottom behind a suspicious looking car; their was a definitely-not-FM looking aerial in the back window. So I wasn't too surprised when I got to the top and found a gaggle of Nikon-toting railfans patiently waiting. They too had just seen the maintainer go past, but were excited to hear the 2+1 grainer was on his way. They were all from Denmark, and turns out they'd just been over at Ely, NV doing the railfan weekend that I'll be doing this weekend. Small world!
The conversation soon turned to how frustrating railfanning can be! We knew at least 4 trains were on their way, yet half an hour later still nothing, save for the track maintainer returning.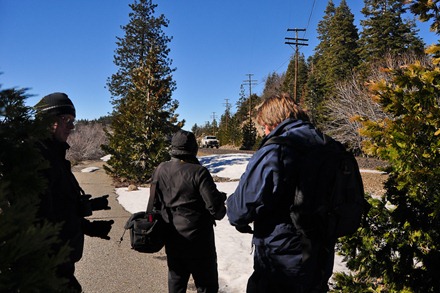 No train, just a bunch of Nikons and bored Danes.
Then suddenly excited cries of TRAIN TRAIN TRAIN and sure enough a massive 7 loco rain had snuck around the corner. About a hundred shots were fired in a few seconds, and you thought I was bad!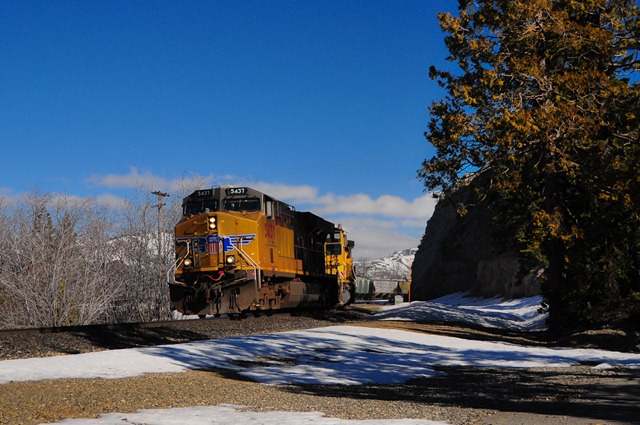 The surprise sneaky train.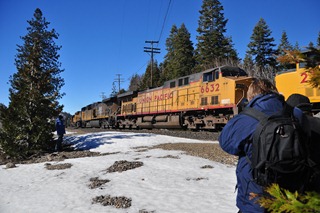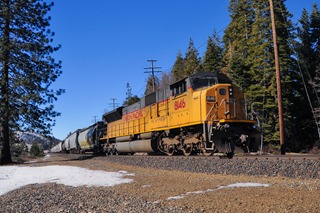 7 locos, and several cunningly concealed railfans / an SD90 on the rear, nice.
Eight locos on one train! Only in America. We settled back into wait-mode, but soon there were more cries of AMTRAK! AMTRAK!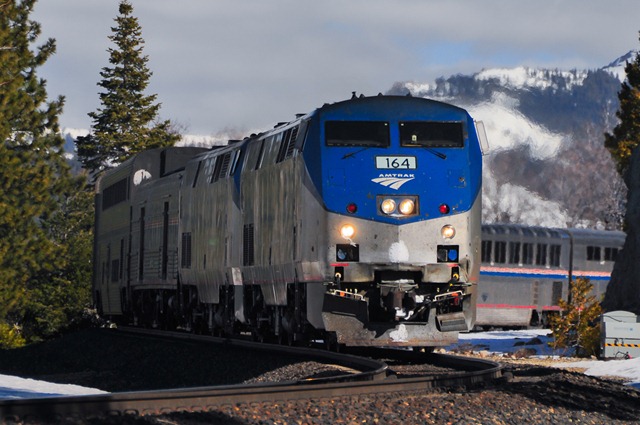 Then it was back into serious wait mode. I knew there was a grainer on the way, but do you think it arrived?! The Danes left and naturally within about 5 minutes the grainer came past.
Chased it up the road and was surprised to find it'd already beat me to Soda Springs. How was that even possible?! He's limited to 30MPH and I was doing 70..!? Whatever the case, here he was and he wasn't going anywhere. Turns out second loco had given up the ghost and they had to, I kid you not, reboot the entire loco! This was after resetting every single circuit breaker they could find, all while stuck in the middle of a snow shed.
While all this was going on, another train came past, turns out this was the train I'd seen earlier. No wonder it had "beat" me up the hill, it wasn't the same train at all! My faith has been restored.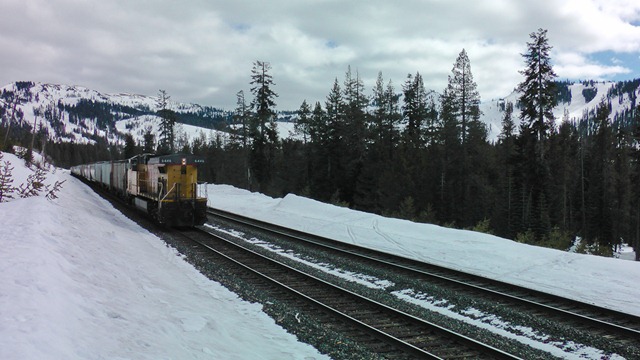 While still waiting (see a theme here?) Mr Amtrak came through…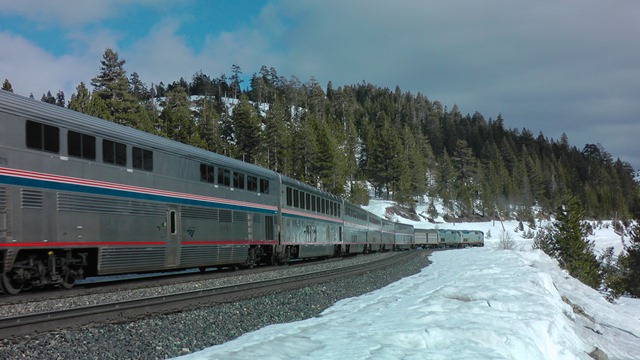 In the end the crew's hours were up and the loco was still dead, so they had to perform a very complicated move involving all sorts of people and much paper work, and back the train down the hill to the crossing.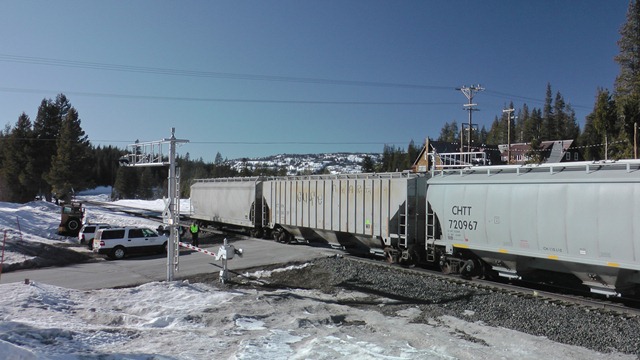 Backing across the crossing, replacement crew sitting waiting.
So, finally, with a new crew the second loco fired up and the crew said, basically, "dispatcher, we need to make a run for the summit before we cut out again, lets go ASAP!" and with that they gave it everything they could and roared off. And they made it too.
No more trains for today. Went and checked out Lake Mary Road, Mr Dodge handled it with ease.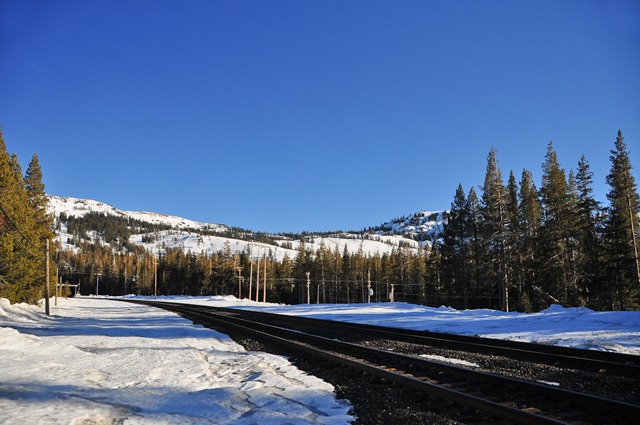 Late afternoon at the top of Donner Pass.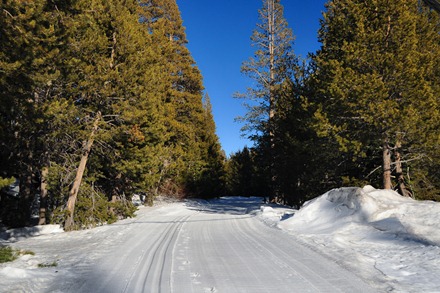 Looking up the hill.
View from the top of Donner Pass was amazing in the late afternoon sun:

Continued on down to Donner Lake, always lovely drive.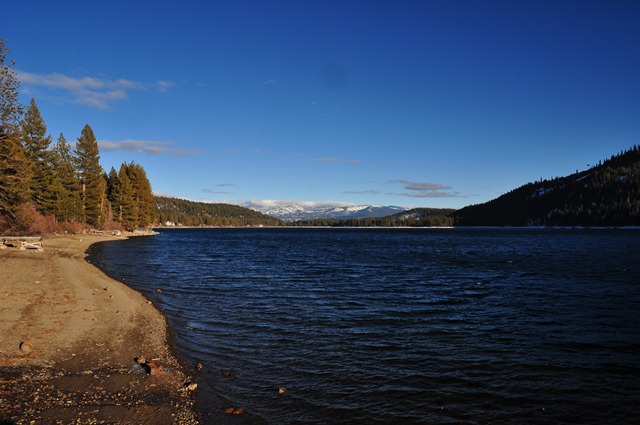 Sunset on Lake Donner.
On to Lake Tahoe I went and into my usual super cheap motel there. Walked to Nevada for dinner, as you do. Turns out it was Prime Rib Tuesday, so I had a 14oz (400g) slab of the tenderest beef I've ever had, cooked to perfection, with a side of hand cut fries, a bottomless Dr Pepper, all for $12. And while I ate that in the cozy quiet of the casino I read away on my Kindle.
Walked back to California… the novelty of walking from one state to another for dinner hasn't worn off yet :-) Oh and I discovered my SUV has a built in mains power jack in the back… very fancy SUV indeed! Also it has Colorado plates; that earns me a bit of respect in these parts hehe.
And as a little treat for the railfans, here is a video from Emigrant Gap: http://www.youtube.com/watch?v=fwqgWh6gARA